How did Neill-Wycik come to be?
In 1966, a group of Ryerson students frustrated with the lack of accessible student housing put their collective minds together to problem-solve solutions to the shortage. What they initially developed was a student-run housing registry, but they knew that if they were really going to affect change for the better, the solution needed to be more permanent. Co-operative living became a viable option, and in the spring of 1969, an official sod-turning party at the corner of Mutual and Gerrard Streets was held, marking a three-year effort of the newly formed Board of Directors to secure financing, find a site, and organize construction.
By 1968, 100 students had moved into Rochdale College, the training ground of co-operative housing, to learn exactly what it meant to run a co-op for students. The doors to Neill-Wycik opened in 1970 with the 22-storey Gerrard wing, followed in 1988 by the addition of the McGill wing.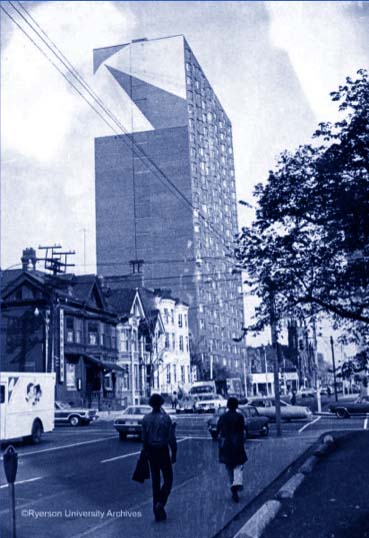 Why Neill-Wycik?
The name Neill-Wycik, as the hyphen indicates, is inspired by two different sources: Alexander Sutherland Neill, who was the founder of Sumerhill, one of the world's most successful free schools, and Mr. and Mrs. Wycik, who served Ryerson students at Oakham House for more than 25 years.
What do we value?
Neill-Wycik is reliant on membership participation. The co-operative model developed by the founders is as important to the success of the building as the members are to continuing its legacy.